Life keeps you busy and on the move. With our mobile banking app, we move with you! It's like a mini AHCU branch in the palm of your hand. Safe, secure and incredibly convenient; you can manage your accounts, pay bills and send money anytime, from anywhere.
Mobile Banking Features:
Biometric log-in
Review account details and transactions
Transfer between your AHCU accounts or to another member
Move money to an external account (A2A)
Send money to family and friends with Pay Anyone (P2P)
Pay bills with FREE Bill Pay
Turn your debit or credit card on/off
View your FREE credit score
Set up account and card transaction alerts
View eStatements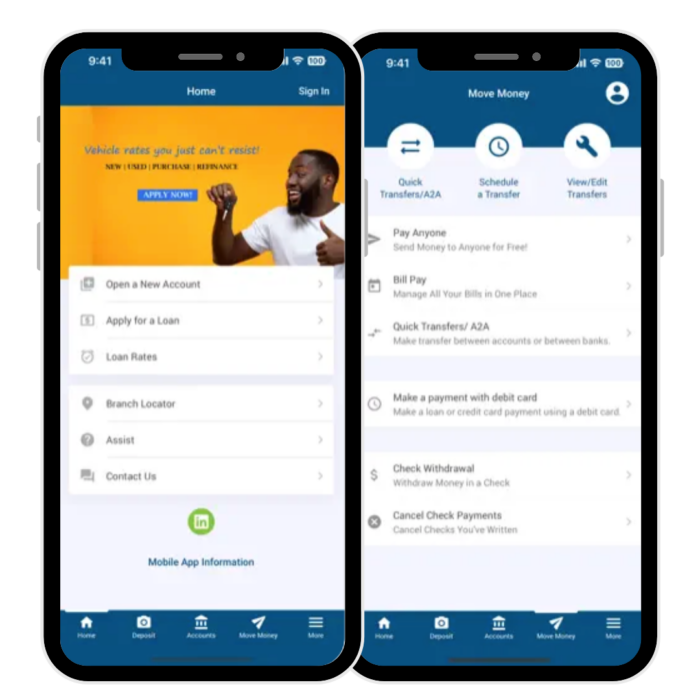 Mobile Check Deposit
Tap. Snap. Done!
Skip the trip and easily deposit checks through the mobile app.
Select "Deposit" from the app menu
Click "New Deposit"
Select the account you want to deposit to and enter check amount
Position the front of your check within the edges of the picture frame and capture a clear image, then click to accept the image
Do the same to capture an image of the back of the check
Make sure your check is endorsed properly
Click "Submit" and you're done!
Mobile deposit limits are generally $10,000 per day, with up to $25,000 per calendar month. Limits may vary for new members. The check hold period may vary, depending on the dollar amount of the check and quality of the check image.
Account to Account Transfers (A2A)
Easily move money between other accounts you have with AHCU, or accounts at another Financial Institution. To enroll for this free service, complete a one-time authorization form and submit to us via email, fax or in-person.
Once your A2A is set up, you can transfer funds between your accounts through online or mobile banking. From Online Banking, select "Quick Transfer/A2A" from the "Pay & Transfer" menu. From the mobile app, select "Move Money" then "Quick Transfers/A2A".
Pay Anyone (P2P)
Send money or pay back friends and family quickly and securely with Pay Anyone in the mobile app. All you need is their email address or a mobile phone number that can receive texts. You won't see their account information, and they won't see yours. And, money will be received within minutes of sending.*
From the "Move Money" menu, select "Pay Anyone". You will set up a secure question and answer, make sure to let your recipient know the answer to the question so they can receive the funds.
*How quickly the money is posted on the payee's account depends on the completion of the secured email or text on the receiver's end, as well as the receiving financial institution.