Home Equity Line of Credit Loan
Home Equity Line of Credit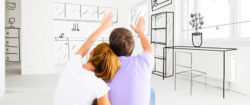 What is a HELOC?
A HELOC is a revolving credit line backed by the equity in your home. Borrow only when you need to. You pay interest only on the amount borrowed. Because your loan is secured by your home, rates are more favorable than other types of loans, and minimum monthly payments are kept reasonably low.

How can I use my HELOC?
Your credit line can be used for anything you choose, such as debt consolidation or home renovations. Use your HELOC for college tuition, a family vacation, major purchases or unexpected emergencies.

Are there costs for establishing a HELOC?
Similar to obtaining a mortgage, your HELOC has closing costs for things such as title search, filing fees and documentation. AdventHealth Credit Union will pay all of the closing costs.

How much can I apply for?
The value of your home affects the amount you may be able to borrow. The difference between what you owe and what your home is worth is called equity. The maximum HELOC is 80% of the equity in your home.

Ready to apply?
To apply for a HELOC speak with one of our AHCU Representatives.
Call: (407) 303-1527 Option 2.
Email: FH.Credit.Union@AdventHealth.com
Chat: AHCU.CC (website)

AdventHealth Credit Union (NMLS#365069)