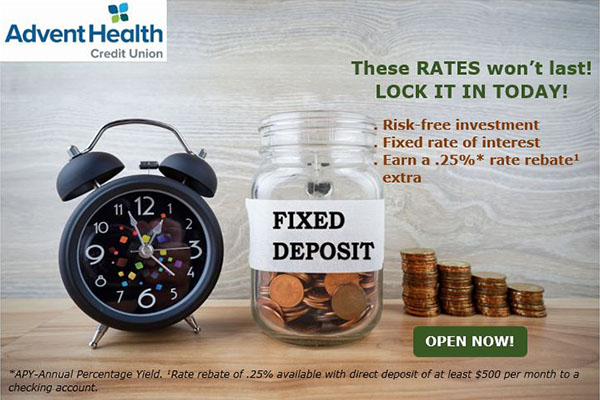 High-yield Certificates of Deposit (CD)
If you have a standard savings account with at least $500; chances are, you're earning the bare minimum in interest dividends. Why not transfer those funds into a CD account and earn a higher rate of return? This is a good idea if you do not plan on using your savings for at least the next 6 months.
DETAILS
Minimum to Open– $500.00
Monthly Service Fee– $0.00
Withdrawals limited to maturity date of CD

Early Penalty Fee applies
See Fee Schedule for additional fees that apply to all AdventHealth Credit Union accounts.
When you invest in a Certificate of Deposit, you contract with AdventHealth Credit Union to place funds in the Account for a specific term. The interest rate, and corresponding annual percentage yield, on a fixed-rate certificate will be fixed when the deposit is made and will remain in effect until the maturity date. Additional deposits are not permitted during the term of investment. Interest is credited monthly.