Use the hard-earned value from the equity you've established!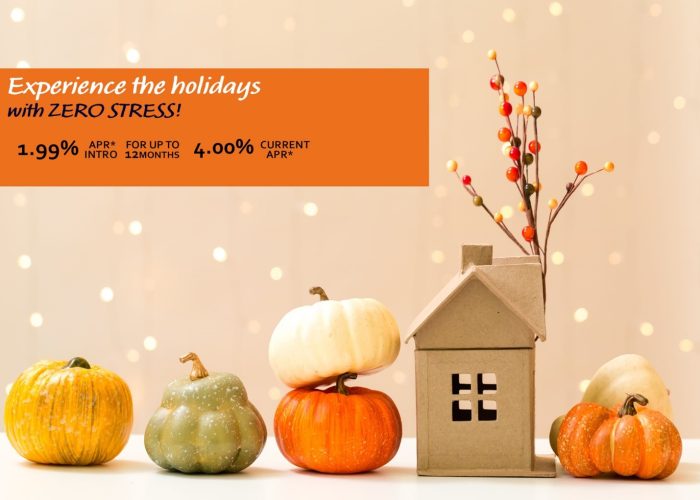 AHCU Home Equity Line of Credit campaign runs between Oct 25th – Nov 30th, 2021.
Here are the details.
1.99% APR* for the first 12 months.
Minimum draw $10,000.00.
No closing costs*.
80% LTV, with up to 100% financing.
Promotional rate of 1.99% APR* for 12 months, valid on new draws only. After promotional period, rates as low as 4.00% APR*.
To apply for your HELOC, speak, email or chat with an AHCU representative today.
Call: (407) 303-1527 Option 2.
Email: FH.Credit.Union@AdventHealth.com
Chat: AHCU.CC (website)
AdventHealth Credit Union (NMLS#365069)
IMPORTANT INFORMATION ABOUT THIS OFFER
*Your rate may be higher based on your credit worthiness and property valuation. Subject to credit approval. No closing costs with $10,000 minimum loan amount. Member pays doc stamp fees. APR = Annual Percentage Rate. Rate quoted is as of 10/25/2021 and based on a home equity line of credit with a 10-year draw period, 15-year repayment period. The home equity line of credit rate is a variable rate and is based on Wall Street Journal Prime plus, with a minimum APR 4.00% – Maximum APR 18.00%. Minimum loan amount $10,000 – Maximum loan amount $250,000. For example, if you made only the minimum payments on $10,000, 10-year home equity line of credit with a 4.00% rate and an 80% Loan-to- Value (LTV) and took no other credit advances, it would take 300 months to pay off a credit advance of $10,000.00 at an ANNUAL PERCENTAGE RATE of 4.00%. During that period, you would make 120 monthly payments of $50.00, followed by 179 monthly payments of $55.82, and a final payment of $56.82. Rates will be no less than AdventHealth Credit Union's minimum interest rate. This promotion cannot be combined with other AHCU promotions. Offer good for a limited time.
What is a HELOC?
HELOC stands for "Home Equity Line of Credit." A HELOC is a revolving line of credit based upon the equity you have in your home.
A HELOC gives you the flexibility to get extra cash when you need it, while making payments on only the amount you use. It's a great option to help pay for one-time significant expenses like:
Home Improvement/ Repairs.
Consolidating high interest rate Credit cards.
College tuition.
Medical bills.
Other unexpected expenses.
How Do I Get a HELOC?
Here are some things you may need to get a Home Equity Loan:
A Minimum credit score of 660
Proof of income – typically 1 – 2 months of paystubs
At least 1 year of W2s
At least 2 months of your most recent bank account statements
Mortgage statement for all properties owned
Possible additional financial verification like:
Self-employment income (2-years of tax returns)
Current debts (auto, alimony, credit card, etc.)
Favorable debt-to-income ratio (DTI)
How big of a HELOC can I get?
Your HELOC loan amount will depend on how much equity you have in your home. You'll need at least 20%. For AHCU, the minimum loan amount is $10,000. The max HELOC amount is $250,000.
Your income, credit score, occupancy, and property type will also make a difference in loan size — just like with any type of loan.
Can I increase my HELOC amount?
When you receive your HELOC, you will have a set credit limit. If you need additional funds over your limit, you'll have to apply for another HELOC. That's why you may want to consider taking out the maximum amount you might need over the next several years. You only draw the money you need. And you're only charged interest on the funds you take out.