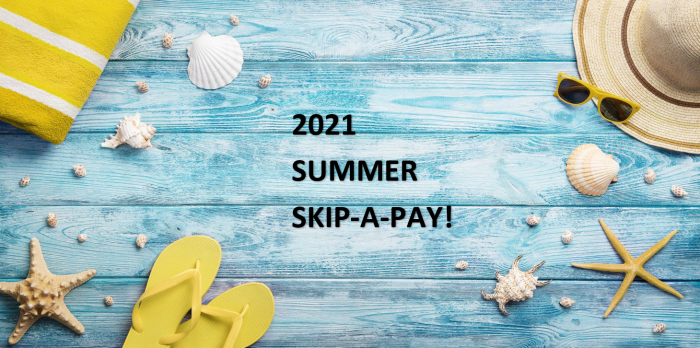 Take a break from your vehicle loan payment this summer!
To see if you qualify, simply follow the instructions below.
Log in to your AHCU account.
Click on the icon.
If you qualify you will see an option to skip your vehicle loan payment.
Follow the prompts after you select the Skip-A-Pay option and submit.
Terms and Conditions
By opting for Skip-A-Pay, you are requesting to defer your loan payment as indicated below. You agree and understand that:
AHCU will extend the term of your loan by an additional (one) month for each skipped payment.
Finance charges will continue to accrue at the rate provided in your original loan agreement, during and after the deferral period. This will result in greater total finance charges than if you made your payment as originally scheduled.
All loans must be in good standing (cannot be more than 10 days past due).
Unsecured, HELOCS, Mortgages, VISA's, work-out loans etc. are excluded.
Extension of loan term does not extend expiration dates of life, disability, debt protection, gap, or other insurance contracts.
A $35.00 service fee is due at the time of request and applies to each skip requested.
If your payment is made via ACH or AFT, we will credit the payment to your AHCU Share Savings Account. You agree to resume making scheduled monthly payments for the month following the approved skip and will make all scheduled payments thereafter.
Your account must have a savings balance of at least $5.00.
Offer valid between July 1st – Aug 31st, 2021 only.
Other restrictions may apply.